Website is popularly described as the collection of webpages and media over the internet. There are about 200 million active websites globally (Georgiev, 2023). This popularity is due to the widespread knowledge about the importance of a website for companies and businesses. Despite this level of popularity, many small businesses and startups are yet to adopt this new marketing strategy which limits their visibility in the digital presence. Many business owners have the belief that there is no need to have a website (Shah, 2021), this is not quite the case. All businesses and companies need a website to improve client experience and promote business visibility. Some of the importance of having a website as a startup are mentioned below;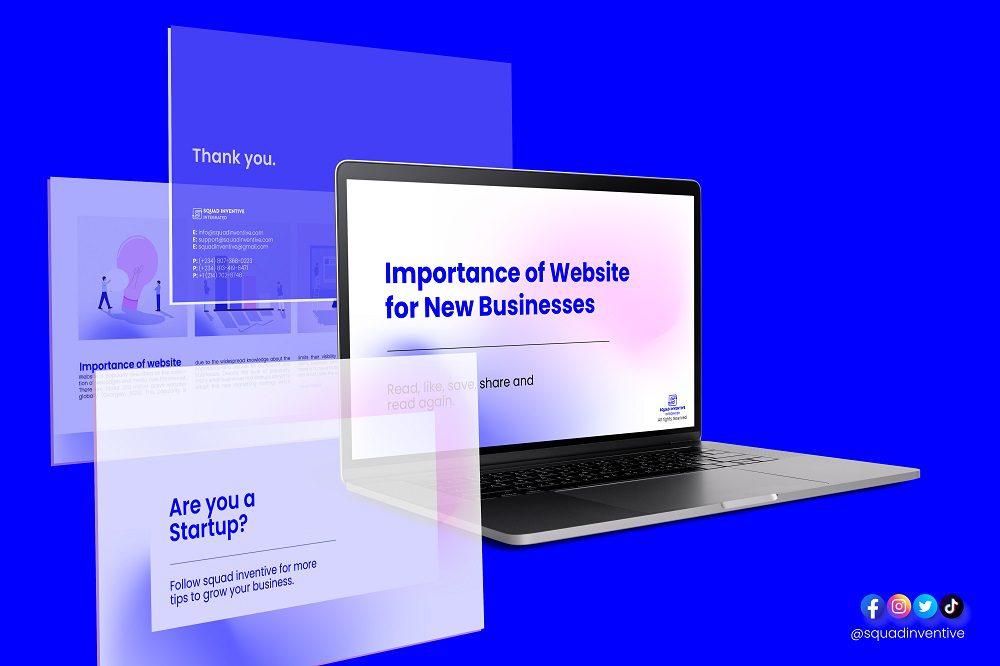 1. Website increases credibility and professionalism
This is the most important reason for having a website. An optimized and well-arranged website improves user experience by gaining people's trust. Clients are more likely to patronize companies with a website than those without one. Since a website displays the vision, mission, values, and attitude towards clients, it helps you create a reputation and generate trust.
2. Website provides 24 hours availability
There is  no time limit in a website. Your business is open 24/7 with a website. Customers and clients can thereby make a purchase whenever they desire and will be rest assured of your availability when you use an interactive website. This helps to prevent the loss of potential customers.
3. Easy Marketing
Promotion is key in business. The more people are getting aware of your products and services, the higher the chance of making more sales. The presence of digital and sponsored adverts have made promotions easier and in reaching people who might not have known about your company. Websites can be promoted through various modern tools like social media marketing, search engine optimization, email marketing, and many more. In addition, a website provides no-limit service to your business.
4. Cheaper Promotion
It is a known fact that digital promotion is cheaper compared with the traditional methods. In addition, digital ads provide detailed targeting in ensuring that your ads only get to those who are interested in your product, this is not provided in the traditional methods.
5. It serves as a feedback and portfolio
Reviews from clients, company values, mission and vision are integrated in a website which makes it easy for prospective clients to have a good understanding of your company and products.  Also, list of services, expertise and specializations can be added.
6. Website attracts more loyal customers
A website is capable of bringing more customers organically. Any prospective buyer can find you online by entering their search keywords in web browsers. This therefore increases the likelihood of reaching m repeople and getting more sales. It provides unlimited opportunities to reach out to loyal customers as many people can search and find your business online. The more global audiences or customers the company gains, the higher the business grows.
7. Distinguishes from competitors
Having a website makes your company standout from competitors. For everyone who wants to be competitive in their niche and gain more clients, then,. A website is the go-to. Majority of businesses and companies have gone digital considering the current market trend, a website therefore distinguishes you from competitors.
8. Faster business growth
In addition to the advantages mentioned above. A website has a lot of features that help to promote sales. Some functions such as Home, About Us, Quote, Pricing, Features, FAQ have made user experience easier (Kravtsova, 2019). Furthermore, a website can be set to collect emails which will be used in contacting clients and customers.
It is therefore essential for all startups to have a website as this will hasten their business growth. Website creates an impression of credibility, builds reputation, generates leads, serves as a sales funnel and improves your brand availability. It is however important for all new startups to have a website. Squad Inventive specializes in creating an optimized website to provide you with the benefits mentioned above.